Ian Brooks
Contact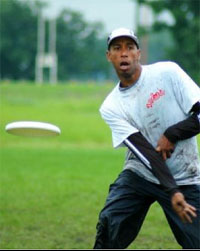 Co-Tournament Director
3269 Bloor Street West
Unit 2
Toronto
Ontario
M8X1E2
Canada

This email address is being protected from spambots. You need JavaScript enabled to view it.

647-345-8105
Other information
Ian is currently the Membership Development and Communications Manager for the Toronto Ultimate Club and has been a contracted employee since 2005. Prior to joining the club Ian brings over 10 years of project management experience for companies such as United Parcel Services, LSI Logistics, Bruzer Sportswear and Metro Sportswear, manufacturer of the popular Canada Goose Parkas.
Ian started playing Ultimate back in 1995 and since then has been a dedicated player, coach and organizer in the sport of Ultimate Frisbee. Working with members of the Ultimate community in Toronto and across Canada, Ian has been involved at every level in all aspects of major Ultimate events. He has been an active volunteer for TUC since 1999 by organizing tournaments, clinics, web and data management, acted as Communications Director, was a member of the board of directors, coaching junior age players plus much more.
Ian has been a regular Toronto Ultimate Club league player since 1997 and has been a regular touring player since 1999 where he's participated in various tournaments across North America and the world, including tournaments such as the Canadian Ultimate Championships (11), USA Ultimate Championships (5) and WUCC (3).